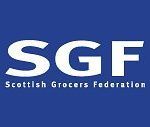 SGF is the national trade association for the convenience store industry in Scotland. It is the authoritative voice for the industry to both policy makers and the media.
The Federation's key activities are:
• Communication
• Lobbying
• Advice
• Networking
The SGF currently has over 3,000 stores in membership. Membership includes all the major symbol groups, Co-op and convenience multiples operating in Scotland. We are stronger together...
Website: http://www.scottishshop.org.uk/
Phone Number: 0131 343 3300
Email: reception@scotgrocersfed.co.uk
 Address: 222-224 Queensferry Rd, Edinburgh EH4 2BN, UK